Note: Exhaustion level 3/10 Working from Shibuya April 21 I spent the day today at work. Breakfast at any satellite google office (including NYC) is always great. The office is above Shibuya crossing, which made it feel like walking to my office through Times Square. Incredibly hectic and fun. I came to meet the Tokyo team but seeing as it was a Friday and I work at Google, many people were working from home. I knocked out 4 hours of work, and the remaining team invited me to lunch with them. Then in true Google fashion, I got roped into a cooking class we had in the office. Fun stuff. Got lots of tips about Japan from coworkers to prepare me for the next week.
Romanji is the short name for kanji written in English.
Cheese is very expensive in Japan. Most of the milk is produced in Hokkaido, but cheese is typically imported, and there isn't a huge demand for it in Japan compared to the west (and definitely compared to NYC).
Pointed out that I should be saying arigato gosaimas, not arigato - but I'd get a pass because it is obvious I don't know japanese.
Buying a rail pass I'm really starting to get the hang of this place. Around 4pm I get a call from the knuckleheads that we need to buy our rail passes for the next week. I tell them to meet me at Shibuya crossing to handle it so I don't need to leave work early. The Tokyo JR office is at Shibuya station, so it made sense to start our evening there. Finding the perfect pair of Japanese jeans outside of Harajuku We went to Pure Blue Japan in Shibuya- definitely on my list since it was recommended by my friend Patrick as a must-visit. You can technically get anything Japanese shipped to you in the states but there are many reasons to buy jeans there: you will get them for half off because you are not paying the markup of the importer and you save on $30 shipping. If the yen is weaker than the dollar you get another 30% off. You also get to try them on in store and feel the textures, which very way more than standard US jeans- Japanese denim has taking a wildly different path than American denim. I nabbed a pair of these $375 EX-019 "Extra Slub" 17.5oz Rinsed Selvedge Denim - Relaxed Tapered Fit Jeans for 18,000yen - $140 at the time. They are unlike any other pair I own. Great buy. We dropped by the beams store and Adrien found this really cool jacket he would be wearing for the rest of the trip- pics below

[1]

. Going out in Golden Gai I decided to mix it up and go out with a mustache tonight

[2]

. I'm not making excuses or asking forgiveness. We started out at Golden Gai- a touristy but fun drinking block. The idea of these bars is they only have space for 6 people each but there are about a hundred of them- you wander and find space and then chat with whoever is in the bar with you. Makes for some really interesting conversations and fun nights. We walked into some really cool bars, my favorites being open book. And albatross. These bars are packed tight and are like 80 sq ft with 3 floors each and incredibly narrow staircases to the other levels. Cool experience, but heavy on drinking and the bartenders encourage heavy drinking. night. Pictures only because I'm not enough of a loser to describe a night out. We went to a club called Harlem that played mostly early 2000s hip-hop which was hilarious. We partied until 4am and went to go get ramen as one does in Tokyo. 5am in Shibuya Crossing With Adrien tapped out at this point, Dylan and I remained. We walked out of the ramen shop and it was bright daylight. Shibuya crossing started slowly filling up with people trying to make the first 5am train back home. People's phone alarms were all going off in the distance, to remind them to get on the 5am train and to wake them up if they were passed out on the floor (They don't call it the Shibuya Meltdown for no reason). The crows were cawing. The sense of everyone being in the exact same boat as we walked back to the station was bizarre and amazing. Everyone was exchanging understanding and exhausted glances. Dylan and I looked at each other and laughed uncontrollably for 2 minutes straight. Night out pictures
Alexia, Victoria, Yuri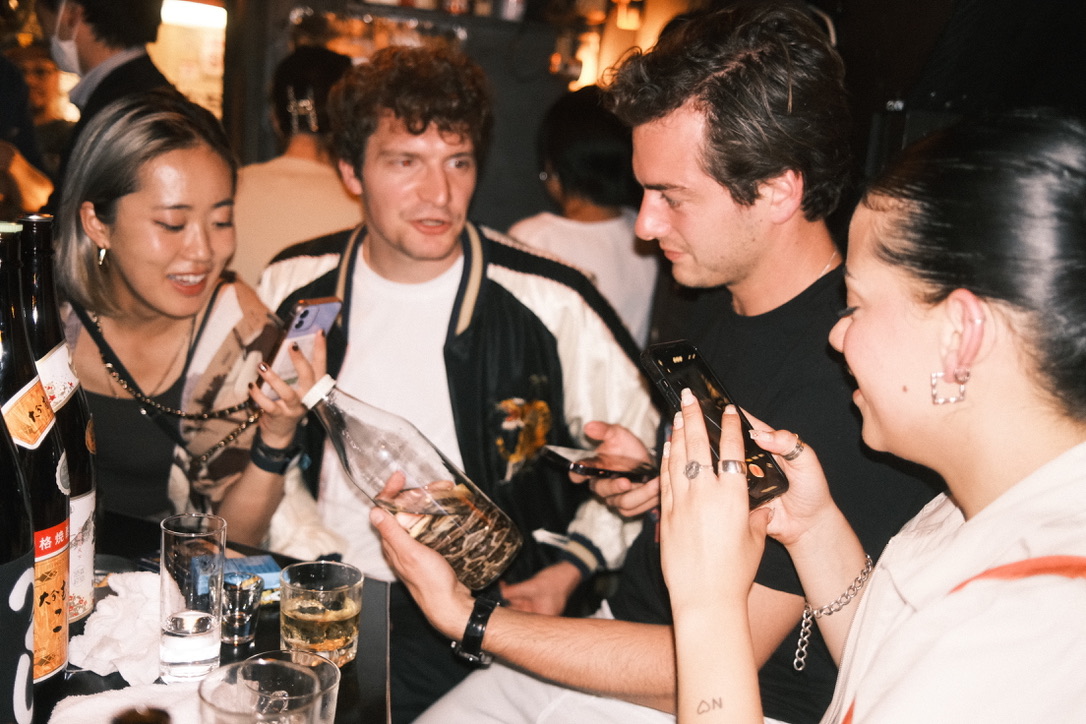 Golden Gai tourist trap snake vodka I did not drink.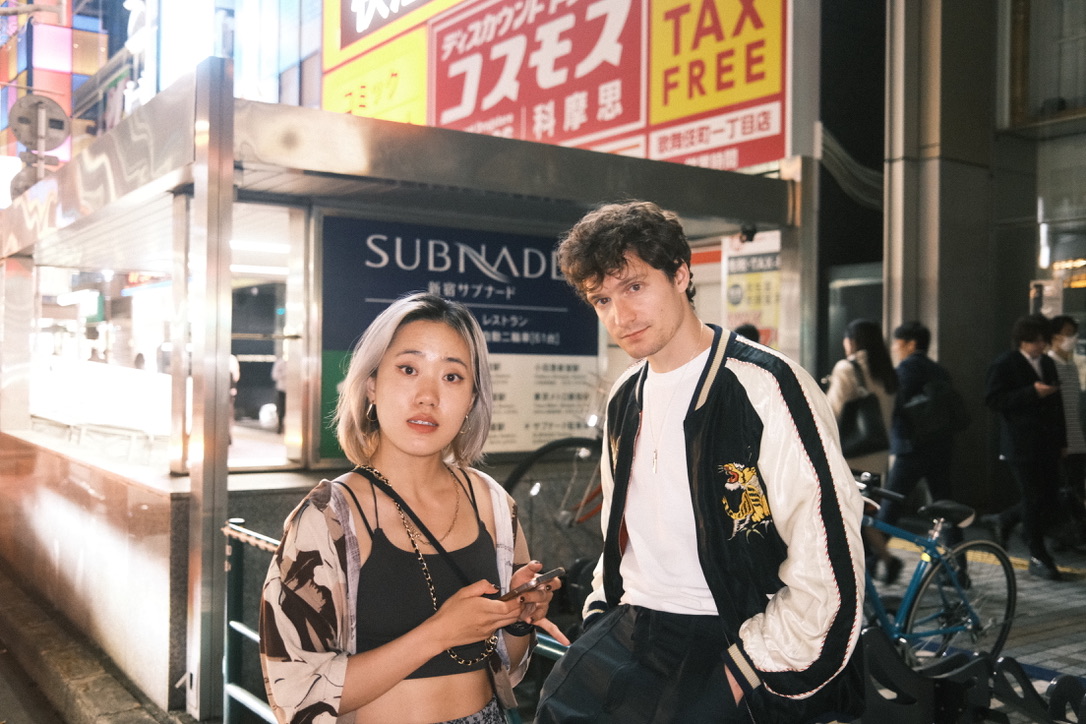 coolest pic I've ever taken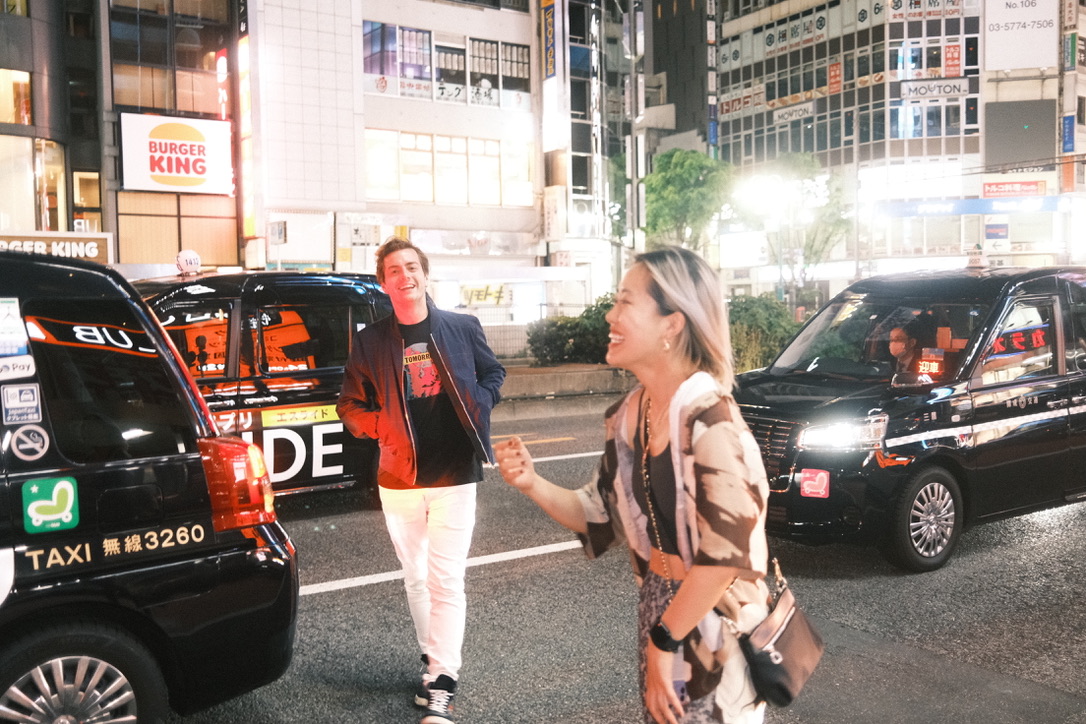 Dylan and Yuri disregarding traffic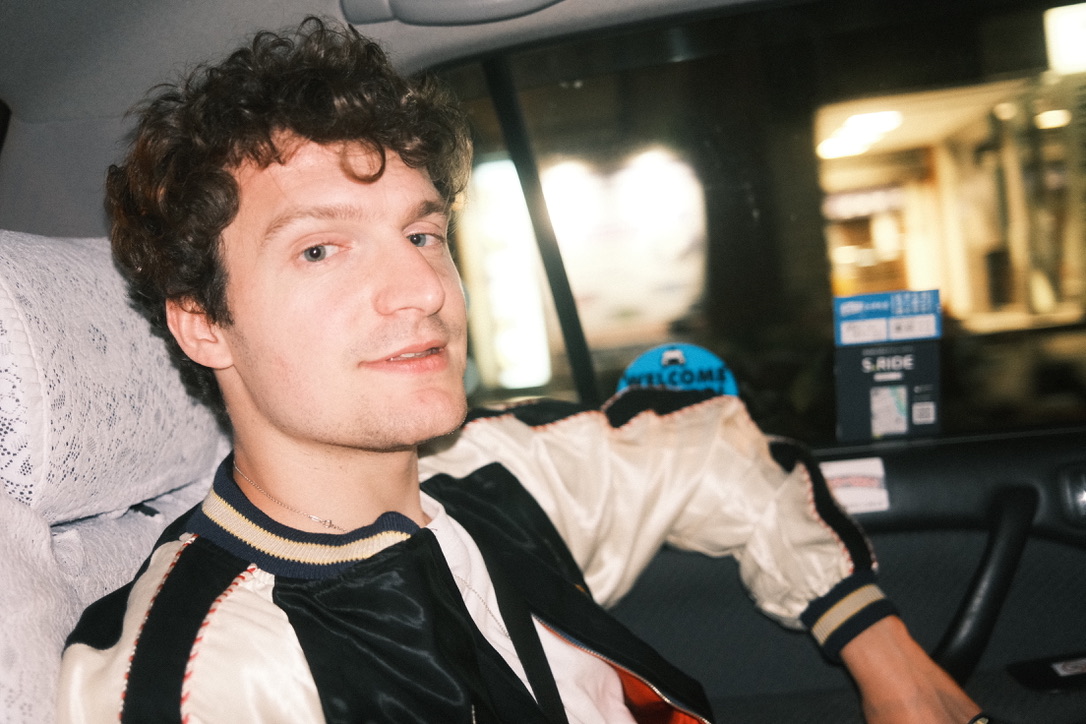 Adrien telling me dark secrets in the cab
Club called harlem
clearly I didn't take these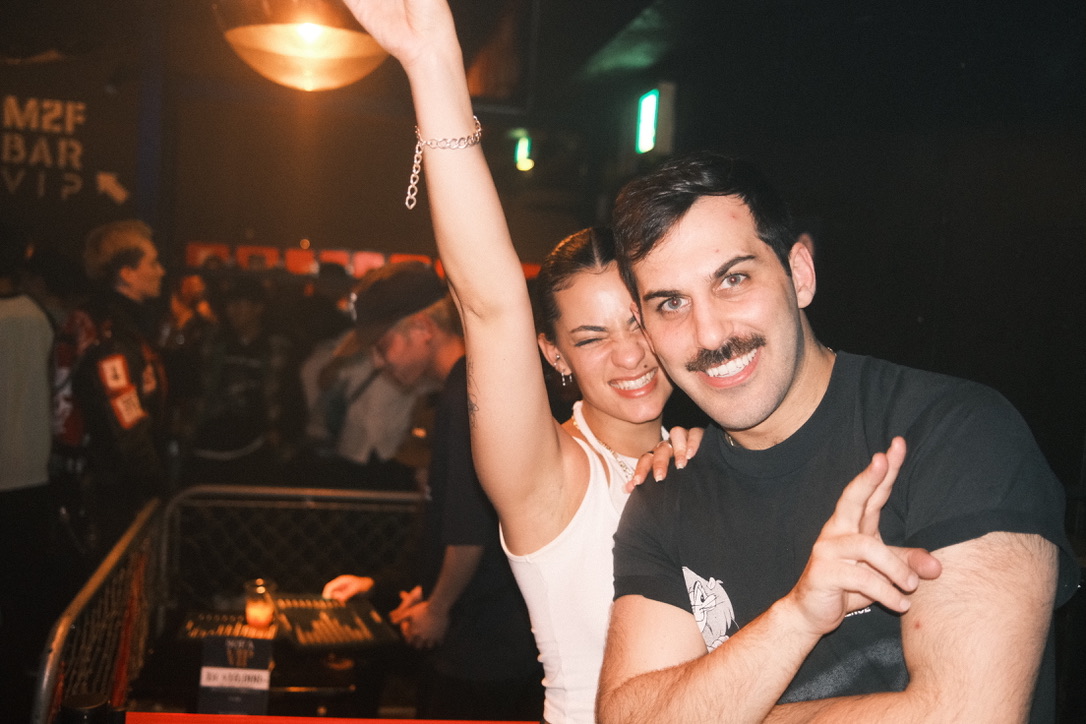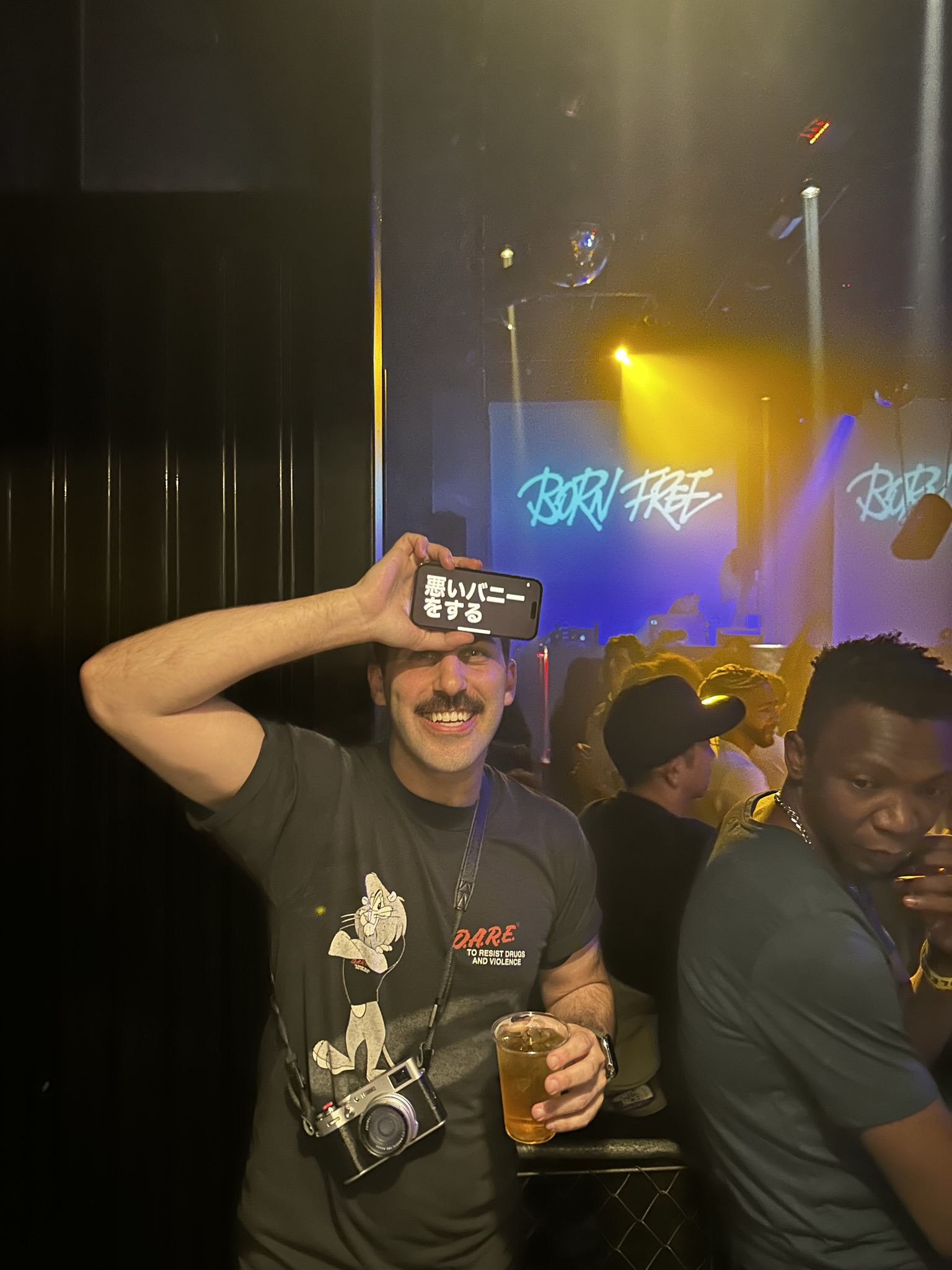 "Play bad bunny"
4am ramen
The sun was out. Vibe shift indeed.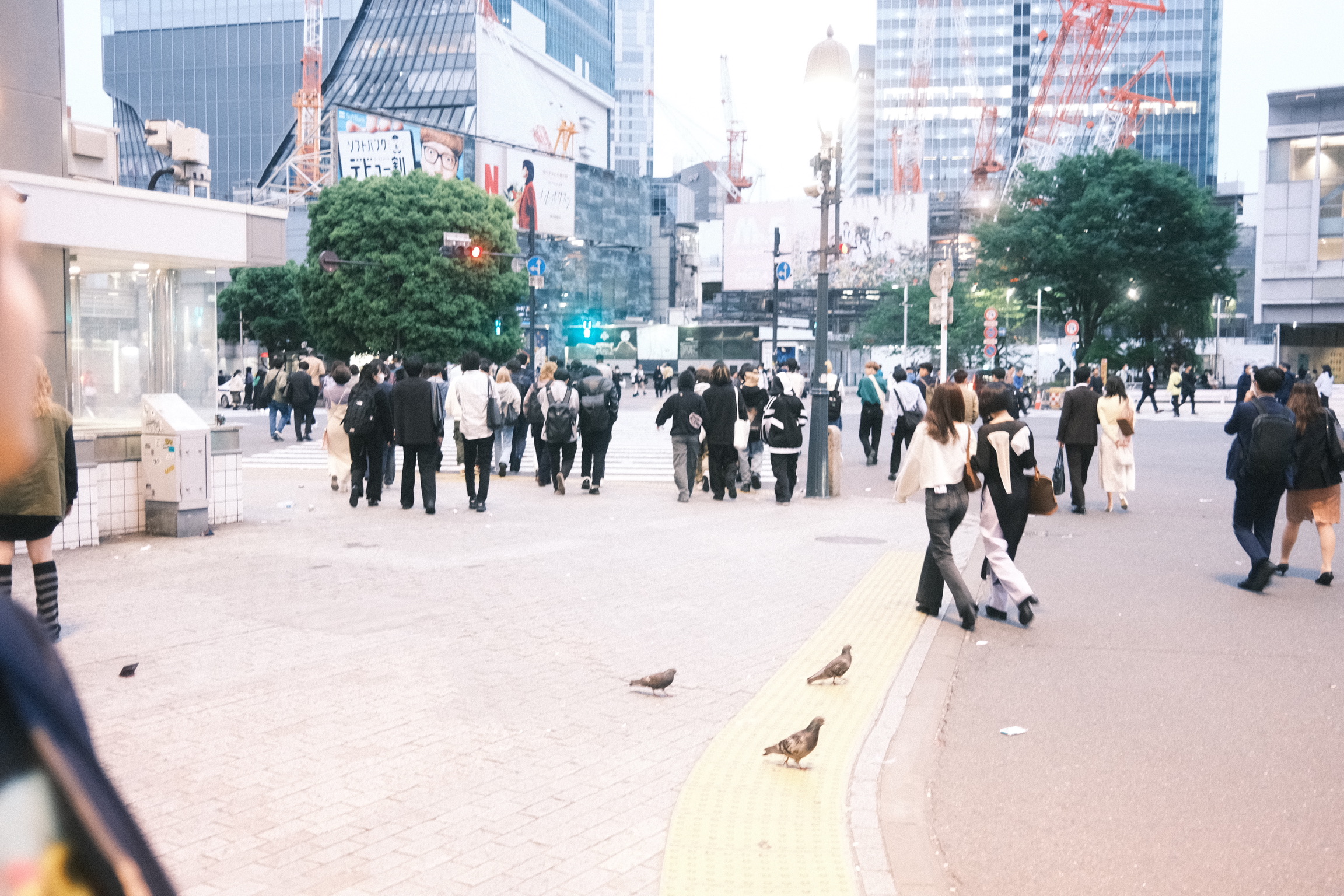 5am Shibuya crossing zombies.
---
Photos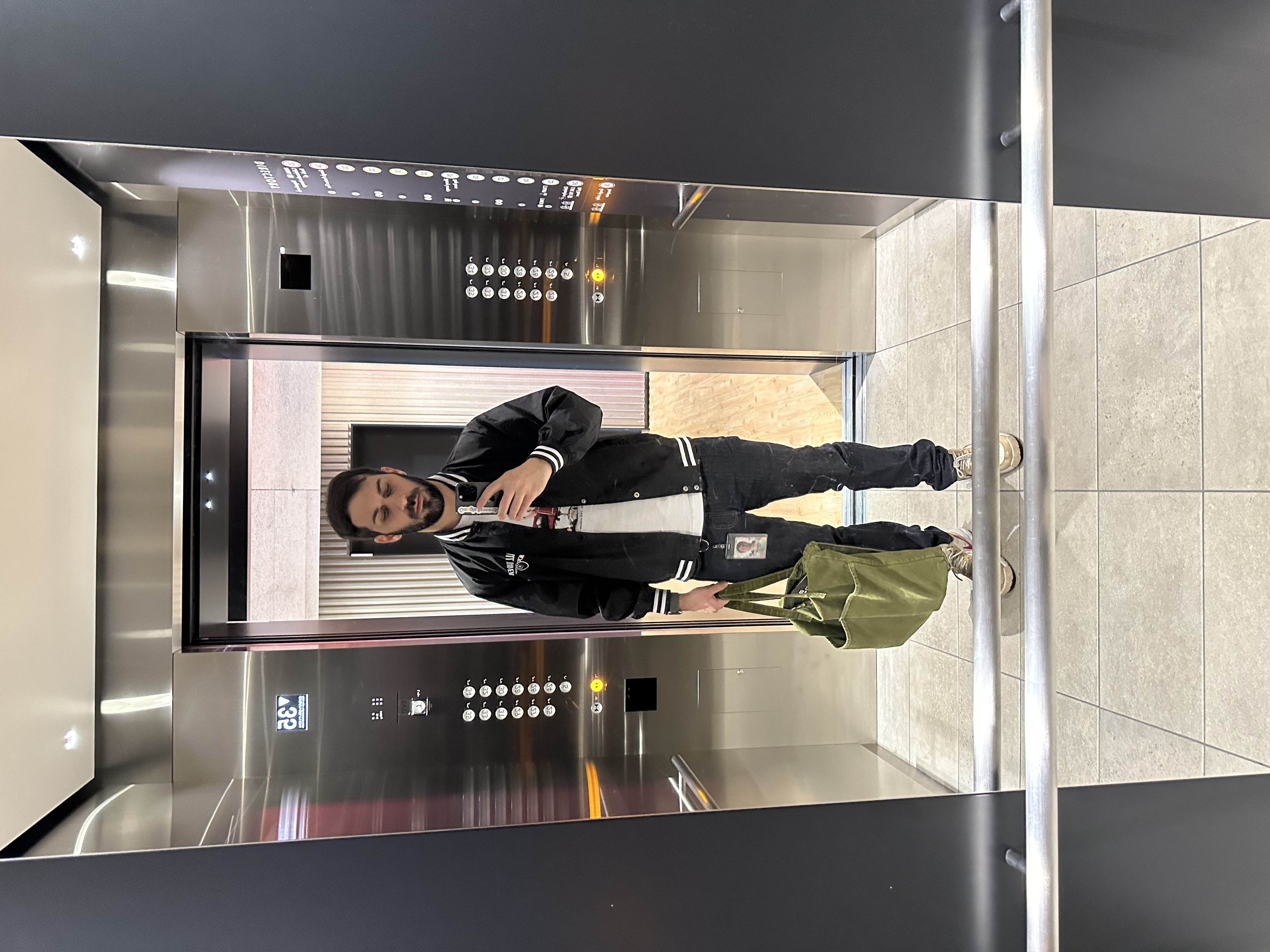 The work fit
Breakfast at Google, little zen tree in the mini kitchen.
Cooking class.
Two perspectives: me finding the knuckleheads at Shibuya Crossing/ Dylan bringing my camera to me and nailing a Shibuya crossing action shot of me.
Buying our JR Pass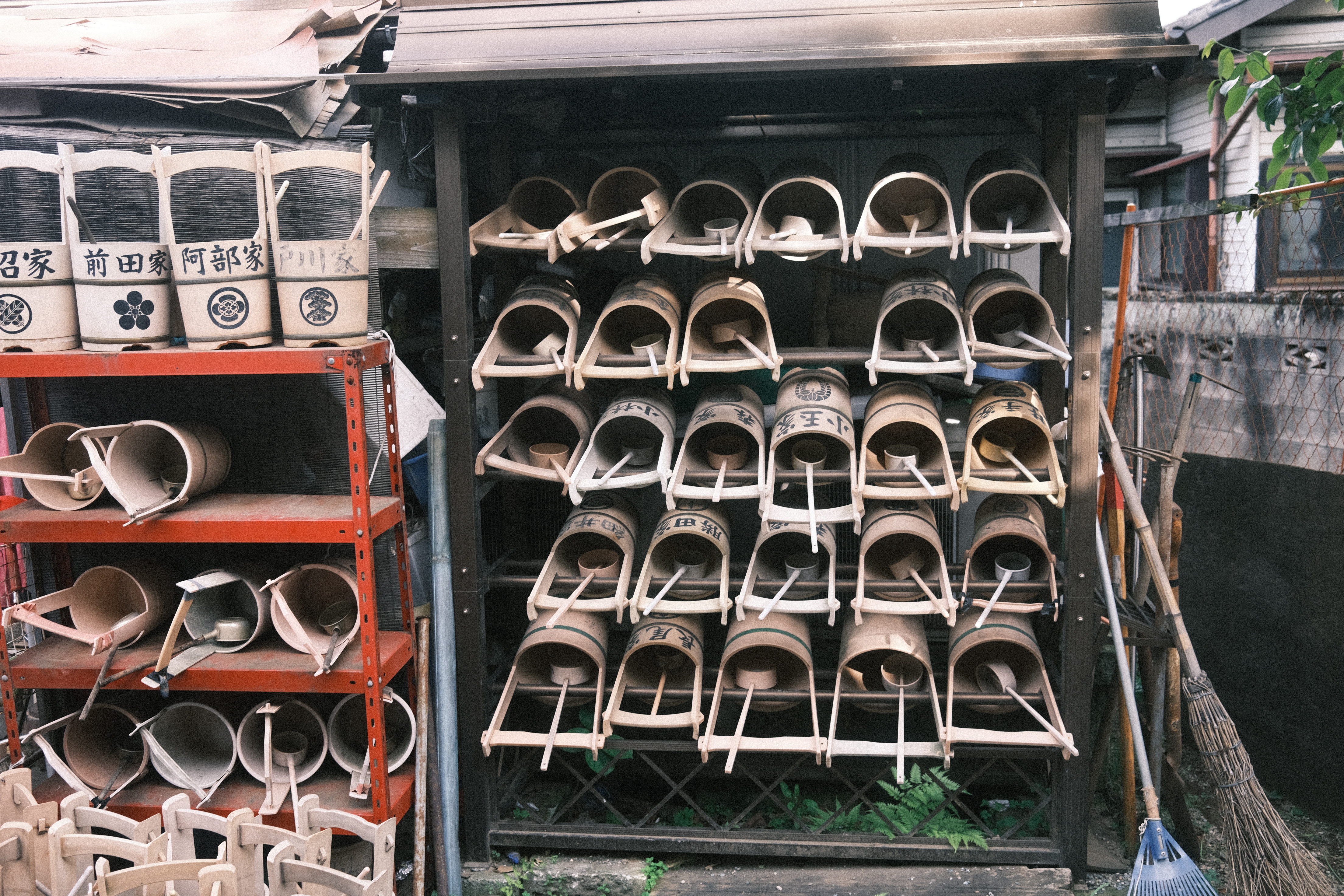 cemetery entrance we did not walk into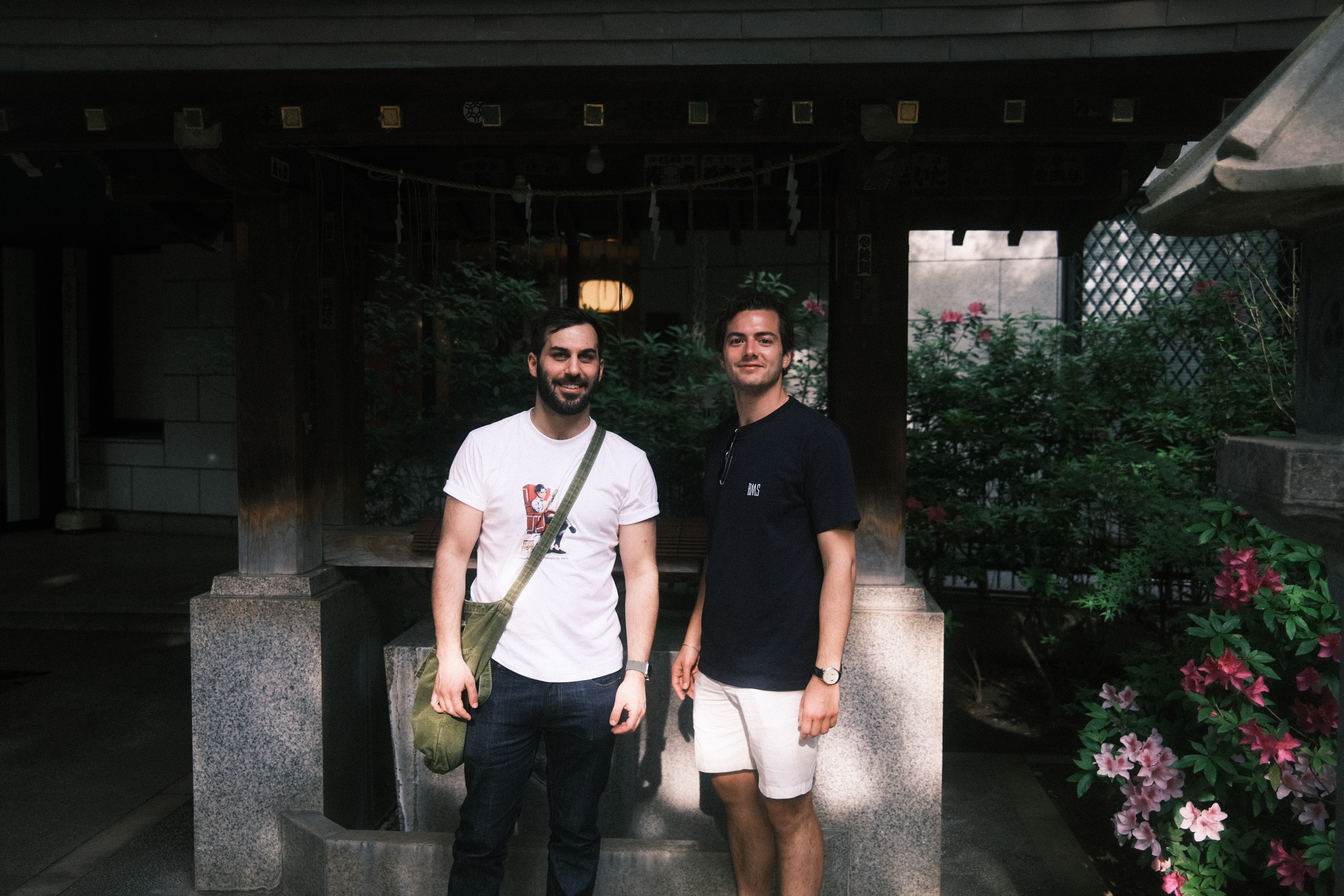 Found a shrine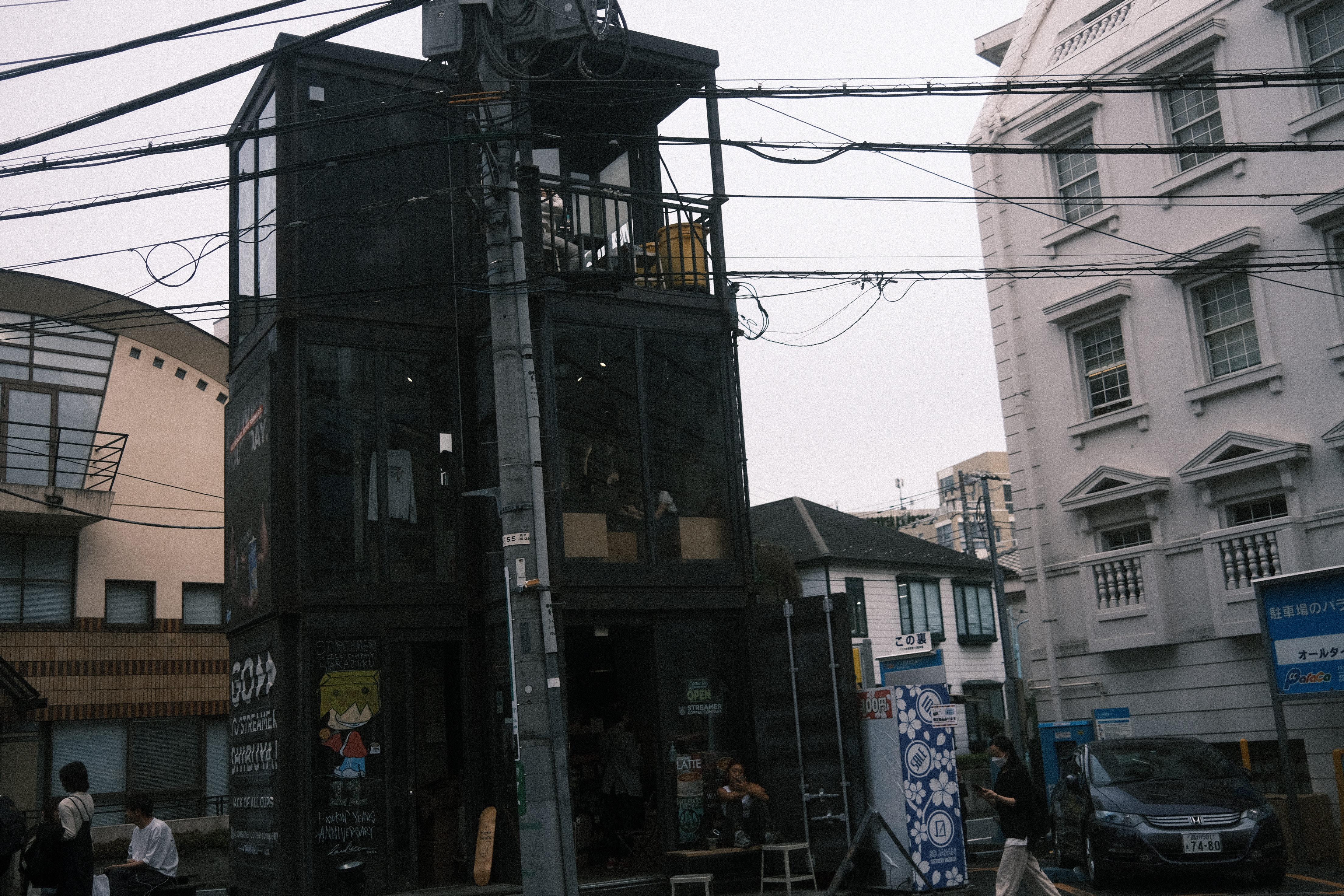 cool coffee shop on the way to harajuku
Stopped at this shop on the way to pure blue.
Pure blue had some crazy demin choices.
Harajuku gates/ BEAMS record store. Both iconic. Apparently in Japan most American albums have bonus tracks on them.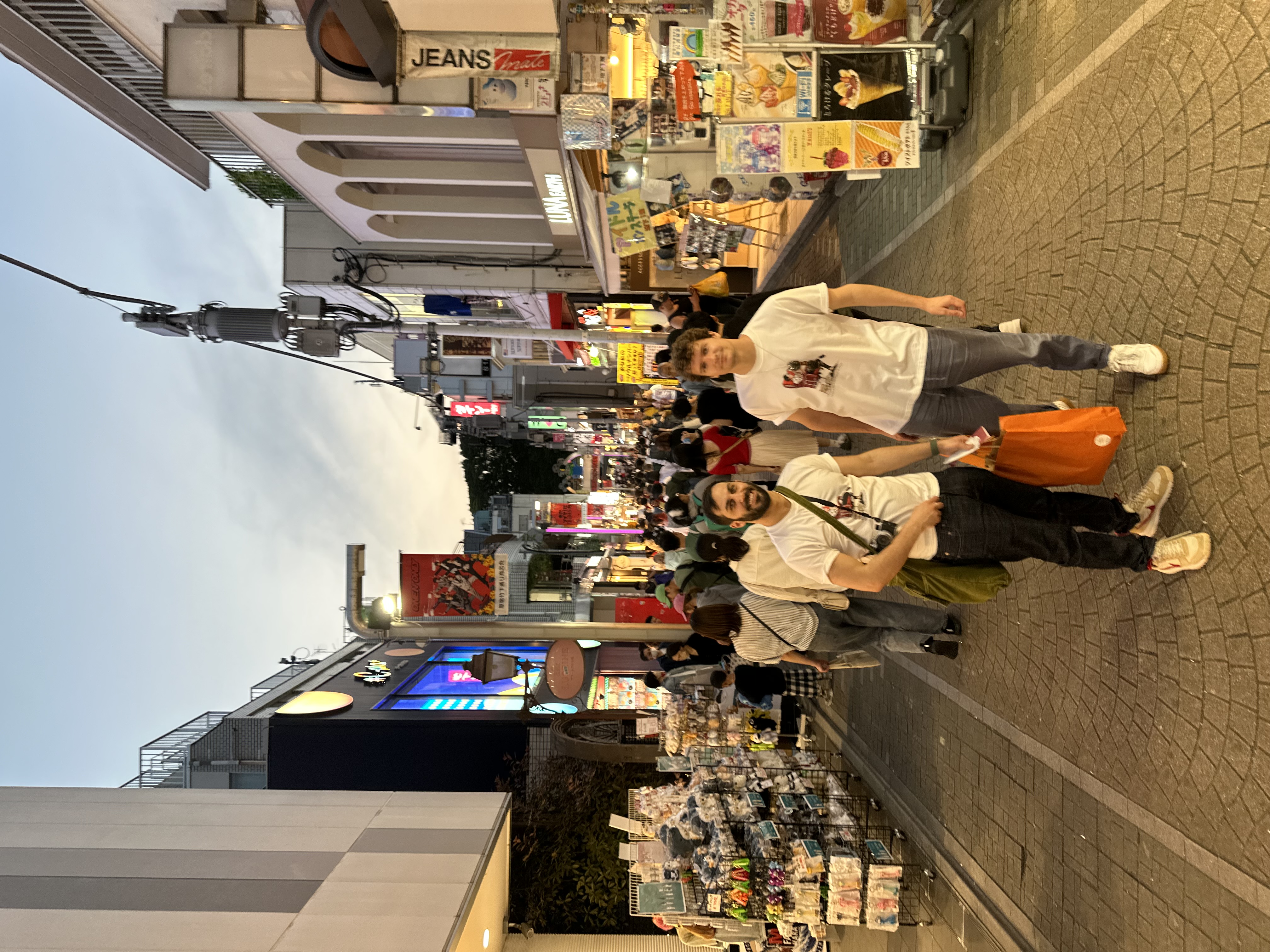 Harajuku streets. This is less busy than it normally is. Yes me and Adrien are wearing the same shirt.
Got one of these strawberry candy things just to say I did.